Home>>Refrigerating Parts & Heating Elements>>Heat Exchangers>>Water Cooling Heat Exchanger>> Aluminium cooling radiators  >>Water Cooling Radiator for installing 1pc 90mm cooling fan
Item: Water Cooling Radiator for installing 1pc 90mm cooling fan,made from aluminium
Short Description: is widly used as heat exchanger.Installed two fans,blowing air to take away heating/cooling energy from the flowing liquid in the micro aluminium tubes;With very high heat exchanging effience.
Flow direction: can be single-pass cross-flow,dual-pass cross-flow,triple-pass cross-flow;
Dimension: 125(D)×92(W)×29(H)mm,with OD9.5 MM inlet & outlet;to install one cooling fan;
Place of Origin: China
Models & Details for "Water Cooling Radiator for installing 1pc 90mm cooling fan"
Product Features:
Specifications: 125 (L) x 92(W) x 29(H) MM
Aluminium frames,very solid;It has excellent heat exchanging performance;
Aluminum fins,with 17-20fins per inch,with very high heat exchanging effience;
Flow direction: can be single-pass cross-flow,dual-pass cross-flow,triple-pass cross-flow;
Microchannel design, the gap is 0.2mm only,has top quality heat exchanging performance;
Can change the direction of the spout according to customer requirements;
Parts are brazing sealed as a whole to make sure no leakage;
Can Install 90 fan,Installing hole size :82.5(D)x82.5(W)MM;
Black eco-friendly painting, improving heat transfer efficiency, surface color can be customized according to customer`s requirement;
Suitable for computer CPU water cooling, industrial variable frequency drives, laser head cooling, air conditioning evaporator,industrial control cabinets cooling,and other heat exchanging purpose;
Main technical parameters:
Type

R90A

Water Cooling Radiator for installing 1pc 90mm cooling fan

Material

Aluminium

Dimension

125 (L) x 92(W) x 29(H) MM

Weight

220 G

Fins density

18 fold/inch

Flat tube

9pcs

Seal process

Vacuum brazing

Surface treatment

Black paint the environmental

Barb

8.5 (D) MM

Connector

Stainless steel clamp

Buying Guide to "Water Cooling Radiator for installing 1pc 90mm cooling fan"
The product is available for retail and wholesale;
The place of origin is in China,when you buy one or a small quantity,please consider international air freight as cost;
Accept bulk order with Container delivery;
Accept customized production;
More types of  Water Cooling Radiators are not displayed on the web.If the item above doesn`t meet your requirement,please contact us to email: sale@smartclima.com ,we can supply a favourite item you need.
General Knowledge on "Water Cooling Radiator for installing 1pc 90mm cooling fan"
Why to choose aluminium as material?
It appears that aluminium is the most effective material to make water cooling radiator. It has top quality heat transfer effience. The radiator made with aluminium can stand greater system pressure.The aluminum water cooling down radiator could possibly be constructed with multi-port tubes that permit a lot more direct calling between the coolant fluid and the tube surface and also more get in touch with between the aluminium fins as well as aluminium tubes, each one of these can include radiator's effience to exchange heat. Because of these broader, more reliable tubes, an aluminum radiator with 2 rows of 1″ tubes amounts a copper radiator with 5 rows of 1/2″ tubes! The higher architectural strength of aluminum likewise implies that radiators can be built with really broad cores without threat of failure, which provides better coolant ability and higher cooling area.
All points thoughted about as, an aluminum radiator will be a lot more efficient, much longer long lasting, stronger, as well as lighter than a standard copper radiator.
Surface Area
Surface area is the most important factor. Acquire the greatest rad you could fit (length x size). Actually, if optimum air conditioning performance is your objective – think about getting a larger rad than you could match then building the chassis around the rad. This is specifically what I did when constructing the cooling system for my 525HP LS2. I knew it made a lot of power. I understood power = warmth. So I chopped off the whole front of the truck as well as built a new front end particularly around my Griffin rad. Area – yes, it's that essential!
There made use of to be an old-school policy that explained that a rad ought to be 1 square inch for every single cubic inch of engine variation. This was an aged guideline from in the pasts when making 1hp each cu. in. was thoughted about as rather high performance. Nowadays engines are consistently making greater than 1hp each cu. in. so the regulation requires changing given that cooling capacity is connected to power and also not just engine dimension.
For high performance usage – like offroad racing, my rule of thumb is to size a rad based upon 1.1 sq. in. each hp made. This is a fairly conventional guideline, which works well for aluminum electric motors.
Here are some usual rad dimensions as well as their areas in square inches:
| | | |
| --- | --- | --- |
| width (in.) | height (in.) | Area (sq. in.) |
| 22 | 19 | 418 |
| 31 | 19 | 589 |
| 31 | 16 | 496 |
| 28 | 19 | 532 |
Turbulence
It is crucial that the coolant moving through the radiator's tubes doings this in a rough or "rough as well as rolling" style. This is to ensure that the max amount of hot coolant could enter call with the surface of the tubes so optimal cooling can happen. If the circulation is not rough, but rather is smooth or "laminar" in nature, a thin border layer of fluid will certainly have the tendency to "stick" to the within wall surfaces of television, protecting the remainder of the liquid from the cooling surfaces of television. The outcome is, the external border layer cools, yet the warm internal core never ever obtains cooled.
There are a number of means a radiator or cooling system developer could obtain unstable flow. They include:
Guaranteeing sufficient rate of the coolant circulation.
Superior tube shape. Broader tubes with little cross-sectional area allow for much better turbulence. This is an additional example of the advantages of aluminum – it has actually the strength needed for less, bigger tubes.
The use of unique strategies in the construction of the tubes themselves – such as the addition of "turbolators" or little fin-like estimates that promote turbulent circulation inside the tubes. Such strategies require advanced design as well as circulation modelling to strike the best balance between promoting disturbance while preserving ample flow as well as lessening stress decrease through the radiator. In their newest high-performance items Lion employ a copyrighted ported Micro Extrusion tube construction strategy making use of a 3000 series aluminum alloy for longevity and also improved liquid turbulation.
Thickness
If you have made best use of the area as well as there's definitely no way to go any bigger, then there may be some advantage to using a thicker rad.
Including density to a radiator does not enhance its performance to the very same level as improving its area does, however as long as there suffices air movement it will not lessen the efficiency.
Thicker radiators do have a little a lot more airflow resistance compared to thinner radiators however the difference is very little at speed when there is good airflow through the radiator. Where issues can appear goes to still when the fan(s) alone should provide the needed airflow. Usage of a quality, appropriately shrouded fan or followers is a should to make the called for air flow at idle and also slow-speed conditions. Obviously, this is true to some level in all situation, yet specifically so with especially thick radiators.
You may have heard folks declare that setting up a thicker radiator resulted in a net drop in cooling down capability. This could be attributed to either possible causes. Initially, the follower(s) as well as shrouding may be insufficient to provide the called for air movement. Second, in the case of older radiators (specifically copper) that made use of slim tubes with relatively big cross sectional location, the boost in density as well as for that reason tubes, really minimized coolant rate to the factor that the coolant flow did not have the needed turbulence. In no instance, nevertheless, could a drop in cooling with a thicker rad be credited to the air getting fully heat-soaked just before it has actually flown entirely with the thick rad – this is an old better halves' story that may have happened as an outcome of misdiagnosing one or both of the above disorders.
Rows
1 row? 2 rows? 3 rows? (Or erroneously, single-core? Double core? Triple core?) Which is the most effective? There is no hard and fast rule right here. The variety of tubes in each row (from front to back) is only a part of a radiator's total design. One could not state that 2 rows are always better than one. It all relies on the dimension and profile of the tubes, in addition to all the various other layout features of the radiator – not the least which is the overall dimension. The best wager is to select or spec a radiator making use of the various other requirements for which there are firm standards (aluminum, largest location feasible, and so on) then leave the other style components, such as the number of rows, to a trusted expert such as Griffin.
Fin Density
Generally, the higher the density of fins in between the tubes, the even more surface there is to be based on cooling down airflow. Nevertheless, there is a limit – additional is not consistently better and also also much of a good thing ends up being a bad point. Picture a fin quality so high it was virtually a strong – certainly that would certainly not be optimum for cooling down as no air flow can pass. An additional aspect involved in the ideal fin density estimation is the operating problems to which the radiator will be subjected. Unclean, blocked fins mishandle or even worthless, and also remarkably thick fins are extremely hard to keep tidy. Not just that, but the fins are fairly delicate and washing them could sometimes trigger harm that once again reduces their performance or makes them worthless. For these reasons, often the best option for an off-road rig is a slightly much less thick fin count as compared to a street or track automobile – and also the overall result will certainly be better real-world, in-service air conditioning. Lion comprehends this and, unlike some others, will not just sell you the item that appears ideal on paper (greatest fin quality). Rather, they will put in the time to comprehend your application and will either make a personalized product for you or sell you an off-the-shelf item finest matched to your actual requirements.
Flow – cross and down
Most of aluminium radiators now are "cross-flow". That means the tanks are at side, and coolant/liquid flows horizontally through the multi-port tubes from one tank to the other tank.
Flow – single-, dual-, triple-pass
The layout at left portrays the circulation in a single-pass cross-flow radiator.
The containers are entirely open inside and also coolant moves horizontally, in one instructions simply, from the inlet (high pressure) side to the outlet (low stress) side.This causes the inlet as well as electrical outlet being on other sides of the radiator.If a rad cap is installed on a single-pass rad, it lies on the reduced tension (outlet) side.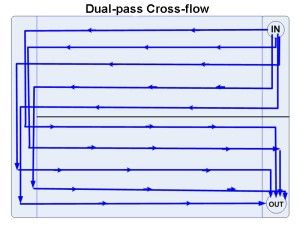 Imagined at left is a dual-pass cross-flow radiator.
In this configuration, the inlet and also outlet are located on the same side of the radiator, as well as the tank to which they connect is divided in half vertically.This forces the coolant to stream from the inlet to the other side storage tank, then back through the rad to the outlet, as pictured.This essentially increases the length of the tubes between inlet and also outlet, halves the cross-sectional area for circulation, as well as results in:Enhanced pressure decrease throughout the rad from the inlet to the electrical outlet.
The layout at left portrays the circulation in a triple-pass cross-flow radiator 
Lowered flow rate.Higher rate and more unstable coolant flow, with assistant boosted warmth transfer coefficient.
Intermediate delta-T between the coolant and also air movement on the second pass.Permit to take a closer check out why all this is so and also exactly what it suggests to our cooling system performance.
Lots of people mistakenly believe that a dual-pass radiator cools down better considering that the coolant "experiences the rad twice" and as a result "spends much longer in the rad and cools much more". We understand that this is not the situation, due to the fact that "time spent in the rad" is not a defining factor of just how well a rad cools down, which flow, disturbance, and also delta-T have a much higher result on cooling down efficiency compared to time. On top of that, there are an excellent several components of radiator style, consisting of tube width, tube height, number of tubes, tube building, and also fin count that, in addition to move design, all integrate to identify the cooling performance of a radiator.So, the inquiry is – does a dual-pass rad awesome far better or even worse compared to a single cross-flow rad?The answer is "it depends". To understand why this is the case, we should recall the principles of Pump Efficiency Curve as well as Total amount System Pressure Decrease and also apply them to the dual-pass rad to view exactly what is happening.We already recognize that stress and circulation are related, and also as a result exactly how increasing the efficient length of the cooling tubes with a dual-pass rad boosts pressure decrease (backpressure).If we check out the pump performance contour, we could also see just how the enhanced head called for by the increased backpressure of the dual-pass rad additionally creates a reduction in circulation because the pump constantly executes somewhere on its curve, and given that its head has actually improved, the flow it produces will certainly be much less. The complying with diagram illustrates the principle, but once again the values are not meant to be depictive of any type of real-world disorders (I merely made them approximately highlight the principle).
Lots of, many myths and also aged other halves' tales could be mapped back to the old down-flow design radiators and also their style as well as construction. We will handle them in a separate part. For now, unless you are attempting to replicate a traditional hot-rod appearance or are intent on duplicating the factory arrangement in a rig that initially used a down-flow radiator, recognize that a cross-flow radiator is the better design because:In a cross-flow radiator, the radiator cap (stress safety valve) lies on the low stress (non-inlet) side of the radiator. This stops the pressure produced by a high-flow water pump from forcing coolant past the radiator cap at high engine Revoltions Per Minute.
Due to the fact that the rad cap is truly a pressure-sensitive relief valve that establishes the system stress, when it is located on the high pressure side (as it is in a down-flow radiator) it "senses" the high tension side as well as sets the system tension based on this and also consequently total optimum system stress is much less (the shutoff opens up when the stressful side reaches the cap's ranking). On the other hand, when the cap is located on the low tension (non-inlet side), as it is in a cross-flow radiator, the cap "detects" as well as establishes the system pressure based on the low-pressure side – so overall system tension is higher in this configuration. For example, a 22PSI rad cap positioned on the reduced pressure side of a cross-flow rad properly becomes a 10PSI cap if it were located in the high tension side of a down-flow radiator.
Considering that the rad cap on a down-flow radiator lies on the high-pressure inlet side, coolant flow/velocity have to be minimized so that rad stress does not exceed the cap's rating. As we have actually viewed, when flow is minimized so is cooling efficiency, and also when speed is lessened, so is circulation turbulence and consequently cooling efficiency.

Home>>Refrigerating Parts & Heating Elements>>Heat Exchangers>>Water Cooling Heat Exchanger>>Aluminium cooling radiators  >>Water Cooling Radiator for installing 1pc 80mm cooling fan